Merch
Interrogations And Confessions
$12
Full-length album from 2003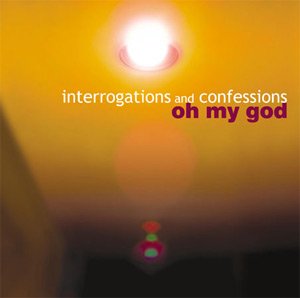 "'Interrogations and Confessions' stresses songcraft over the avant-garde...but it doesn't shortchange the crackling kinetics that have always traveled between the trio's serrated iron triangle...Even when it is strikingly melodic, the album flirts merrily with disquiet...that's the great thing about 'Interrogations and Confessions'—-it's just as dangerous as oh my god's previous, weirder work. But, like Spoon, the band has refined its formula...the songs roil with threatening organ tones and their lyrics are opaque enough to keep the band's mystique shrouded...a few well-placed words can cut cleaner and deeper than any dippy guitar solo. (Four stars.)"
— Allmusic.com

"Chicago trio oh my god dials back the quirk and turns up the tunes on its third album 'Interrogations and Confessions.' Oh my god has always been a fascinating group, but with the startlingly consistent 'Interrogations and Confessions' it's made the leap to near-genius."
— Michael Toland, Editor-in-Chief, High Bias.com
The Action Album!
$12
Full-length album from 2002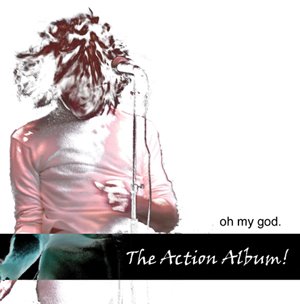 "Oh my god creates a sound bearing a little resemblance to a school's Klaxon system going haywire. 'The Action Album' offers humorously scathing indictments of ridiculous parental bromides."
—Austin Chronicle ("Saturday Sleeper" pick at SXSW)

"Has Qay Lewd dusted off his giant platform shoes? 'The Action Album' can be called the greatest album the Tubes never made. But oh my god are hardly clones or a tribute outfit. The threesome manages to farm the fertile loam left by punk when it aged into new wave."
—Campus Circle, February 2002
The Night Undoes the Work of the Day
$12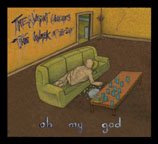 The most recent oh my god album (2009)
"The writing process was distracted by marital problems and life-threatening illness, on top of a serious car accident that delayed the release of the band's last album, Fools Want Noise. The back story makes the incredibly well-balanced Night that much more triumphantly cathartic, with both soft-boiled and hard-hitting pop tunes that make you wonder if a band can intimidate, party and weep at the same time. Organist Ig crunches loads of funk into One Thing Leads to Another and then leads into the blissful cool-down of Baby, Dream. Singer Billy O'Neill shines as both a rock frontman and an introspective pop balladeer. His delivery of stuff like I Don't Think It's So Funny (How Time Slips Away) will make music venues want to cut the lights and turn all the focus on the vocals. Captivating."
-Metromix ("Albums You Need to Hear Now" review of The Night Undoes the Work of the Day)

"The delicate, spare piano ballad My Juliet is O'Neill's heartbroken confession of his demons and failure to his wife and a plea for forgiveness. Its opposite is the gorgeous pop of Baby, Dream, a song about hoping for the beginning of a new relationship. That kind of variety and duality pervades The Night Undoes the Work of the Day, which has aching ballads, prog-tinged rockers and bouncy pop. Some are optimistic, some melancholy, all exquisitely produced.
-Lincoln Journal-Star (NE)
Fools Want Noise
$12
Get oh my god's most hard-hitting rocker, the "Fools Want Noise" album, on CD (2007).

"Strangely constructed dirt-pop/blues with all sorts of bizarre synth noise (see the title track) and incredibly soulful vocals. It's the band's best work in quite some time, and it's a shame they aren't known on a national scale. If you're looking for a challenging, abrasive yet poppy rock record to tackle this fall, look no further."
-Alternative Press review of "Fools Want Noise," 11/08 (3.5 stars out of 4)


"For close to a decade, Chicago's Oh My God has been creating some of the most shizophrenic music the underground has heard. Landing somewhere between power-pop and prog-rock, the band simultanteously evokes bands as different as Weezer and Yes. With their whirling organ grinds and frenetic, freakish rhythms, the band proves they can create intricate textures without sacrificing the song or its hook. Their recordings and performances have earned endless acclaim, and with the long-awaited album The Fools Want Noise, they are sure to garner greater attention.'
-Buffalo ArtVoice
You're Too Straight to Love Me
$7.50
NOTE! As with "Well," this 2004 album is out of print. We send you a burned copy of high-quality audio for cheap!
"Oh My God's dynamic prog-pop crams ideas into each song like a deliciously eclectic pick 'n' mix...an irresistible cocktail of crunchy, swirling keyboards and jackhammer drums...a monumental feast of pile-driving hooks."
-Kerrang (UK) review of "You're Too Straight to Love Me"
Well (2001) / EP (2000)
$7.50
PLEASE NOTE: These two early oh my god releases are out of print...what we send you is a burned copy of both recordings on one CD

"Who would have thought to merge soulful vocals and powerful drums with buzzers and subdued vibrating organ?...Good art rock does exist."
—Detroit Metro Times, October 2000